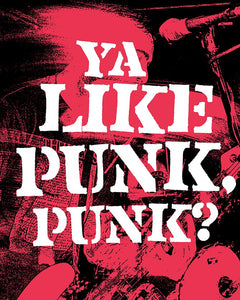 New Noise Store
YA LIKE PUNK, PUNK? BUNDLE
Regular price
$35.00
Sale price
$43.00
Unit price
per
The "Ya Like Punk, Punk?" Bundle includes 8 issues bundled into one package that'll save you a few bucks on the cover cost & shipping compared to buying them separately.
Issues included:
– Issue #66 – Samiam
– Issue #65 – The Punk Rock Museum (with 2-sided punk poster!)
– Issue #62 – A Wilhelm Scream
– Issue #61 – Hot Water Music (with flexi!)
– Issue #59 – The Bronx (with flexi!)
– Issue #56 - NOFX (with flexi!)
– Issue #55 – Less Than Jake (with flexi!)
– Issue #53 – The Lawrence Arms (with flexi!)


Are you into getting flexis?
Our flexi collection is an ongoing series available to our subscribers (with a few leftovers placed here in our online store), so if you want to guarantee you receive each upcoming flexi, subscribe here.
*Issues included in bundle may vary based on available stock at time of purchase.
---