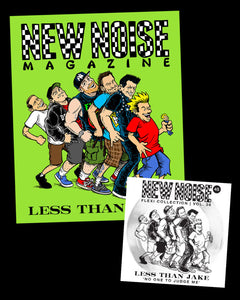 New Noise Store
ISSUE 55 – COVER FT. LESS THAN JAKE (W/ 2 EXCLUSIVE FLEXIS!)
Regular price
$5.00
$0.00
Unit price
per
72 pages.

New Noise Issue #55 features two cover variants - Less Than Jake and Vi*gr* Boys- each with an exclusive flexi!

Cover story: Less Than Jake and the 'Year of Ska' with Mad Caddies, The Slackers, Goldfinger, Skatune Network, Cat Bite, Kill Lincoln, Omnigone, Bad Operation, and many more. Plus we talk with writer Aaron Carnes about his new book In Defense of Ska.

Also: Vi*gr* Boys, Nothing, Hatebreed, Gama Bomb, Ilsa, I Am The Avalanche, Casket Lottery, Of Feather and Bone, Heretical Sect, the Body, Blood From The Soul, The Dirty Nil, Renee Heartfelt, Soilwork, World Be Free, Macabre, Anna McClellan, Bearings, Alpha Hopper, grandson, Sólstafir, Dark Tranquillity, My Dying Bride, Fates Warning, Soft Kill, Tombs, Fuck The Facts, PG.LOST, Red City Radio, Joan Of Arc, Stolen Wheelchairs, Scalp, Seized Up, Lambchop, VRSTY, Strangelight, The Big Easy, Suzie True, This Is The Kit, Sevendust, Nervosa, Seahaven, and more!
*Plus we get political with Jello Biafra & the Guantanamo School of Medicine, War On Women, CRASS, Fever333, Clipping, as well as documentary spotlights on The Clash: White Riot and Behind the Barricades: The Story of Anti Flag
*Discuss collaborations with Thou & Emma Ruth Rundle, Mizmor & Andrew Black, and Boris/Merzbow
*Director Tony Wolski, Against Me's James Bowman and his Bowman Audio Endeavors, the relaunch of Charged Records, as well as special columns, our Short List section and much more.
---